Download the complete lossless soundtrack and all related files! (Mirror)
See note about FLAC version

Listen on YouTube!


Thanks to the excellent work Bryce has done with delvmod, game data can finally be extracted from Delver archives. Because of this we finally have the MIDI music ripped directly from Cythera, even though it's been nearly 20 years since the game was released. These files have enabled the creation of a new soundtrack which features updated and new sounds of Cythera to be explored in lossless CD-quality audio.
The Cythera: 20th Anniversary Soundtrack is a two volume, two disc set of music created using classic and modern MIDI synthesizers, as well as contemporary music creation software, namely Apple's Logic Pro X. All the music, liner notes, source files (MIDIs and Logic projects), and other associated materials are freely available to download.
You can download the complete, lossless soundtrack and all related files here (Mirror). The sections below provide more details about specific parts of the soundtrack and the option to download individual items. In the Music section, you can download the lossless music by disc or stream lossy (128kbps AAC) audio by clicking directly on a song. We have also added a link to our YouTube playlist to stream from there. Liner notes and source files can also be downloaded individually or in bulk.
Note: Lossless audio is distributed using Apple Lossless Audio Codec (ALAC) due to its native support on Apple devices. However, even though ALAC is now an open standard, its support is limited outside the Apple ecosystem. For this reason, a more universal FLAC version of the complete, lossless soundtrack may be downloaded here.
YouTube playlist for the complete soundtrack
Each volume corresponds to one disc of audio. The first is all-MIDI, while the second relies on Apple's Logic Pro X for a newer sound. See the Liner Notes for more in-depth discussion of every volume, album, and track in this release.
Download all lossless Volume I tracks or stream lossy (128kbps AAC) versions below if your browser supports it.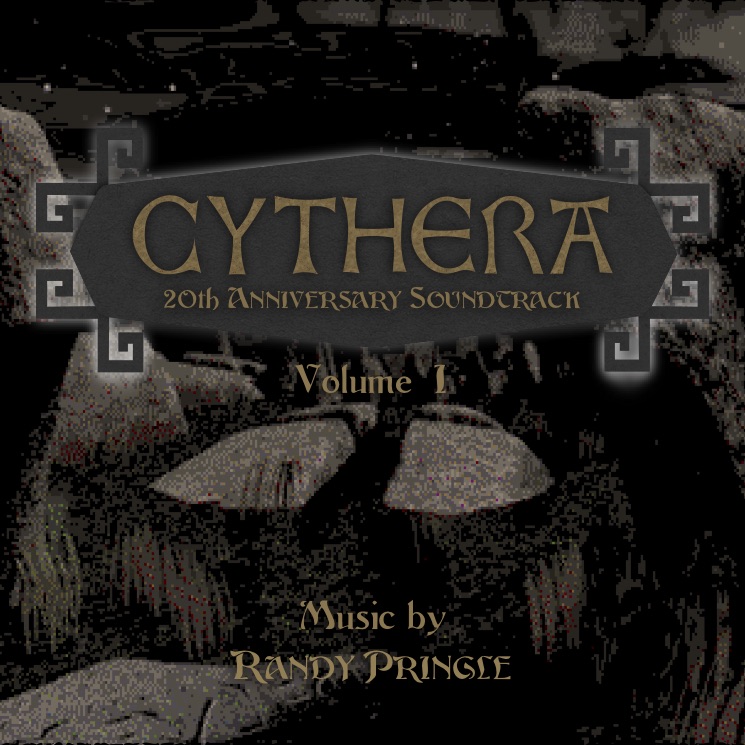 Volume I uses MIDI exclusively to give voice to both classic and updated versions of the Cythera tracks we've all come to know and love. The content is split across three sub-albums, first revisiting the classic material in QuickTime 4 before turning to the modern open-source Timidity software for resynthesis with new sound fonts. The final album experiments with different instrumentations for the MIDI music.
Cythera: Revisited
Cythera: Resynthesized
Alternates & Extras

Total Album Time, 23:42

Total Album Time, 21:51
Total Volume Time, 1:07:25

Total Album Time, 21:52
Download all lossless Volume II tracks or stream lossy (128kbps AAC) versions below if your browser supports it.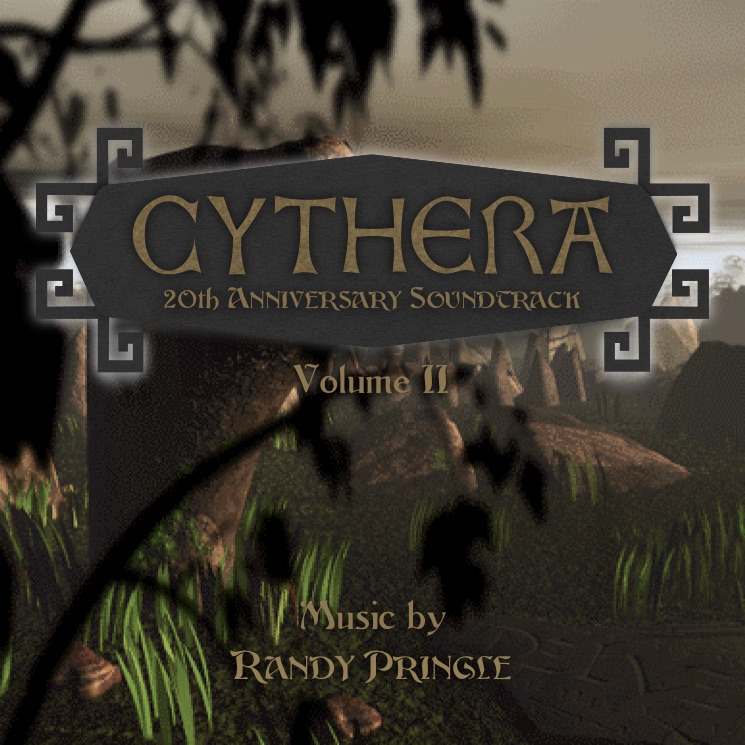 Volume II builds on the same Cythera sounds as before but remasters the music and explores new variants with modern synthesized instruments using Apple's Logic Pro X. Again, the volume is split into three sub-albums, the first remastering the original soundtrack as closely as possible with the second and third ones branching out into new instrumentations and arrangements.
Cythera: Remastered
Cythera: Reimagined
Suites & Medleys

Total Album Time, 22:04

Total Album Time, 21:08
Total Volume Time, 1:00:53

Total Album Time, 17:41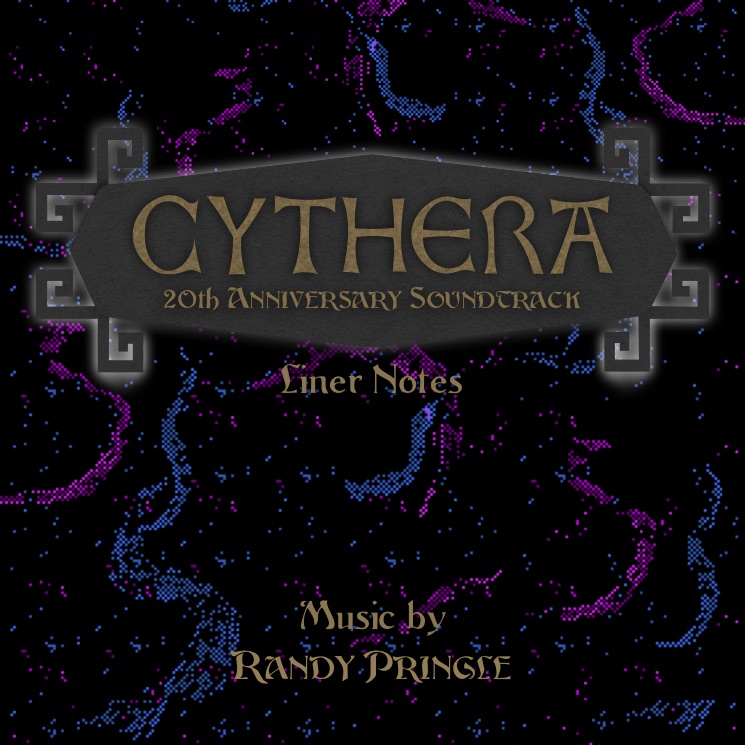 This 36-page booklet provides detailed notes about each track in the Cythera: 20th Anniversary Soundtrack. It also includes an introductory discussion of the QTMA and MIDI formats, background on how this soundtrack was made possible, and a short interview with Randy Pringle. With extensive Cythera-themed artwork and backgrounds styled after Cythera's Void, it should be considered a worthwhile companion piece for the music in the 20th Anniversary Soundtrack.
The Liner Notes are available for download in both 2-up and 1-up form factors. The 2-up layout is more similar to a booklet and may be easier to read on larger screens. It is the preferred version. However, the 1-up form factor is better for smaller-screen devices and may have better general PDF compatibility for weblinks and other features.
Download: Liner Notes Booklet (1-up)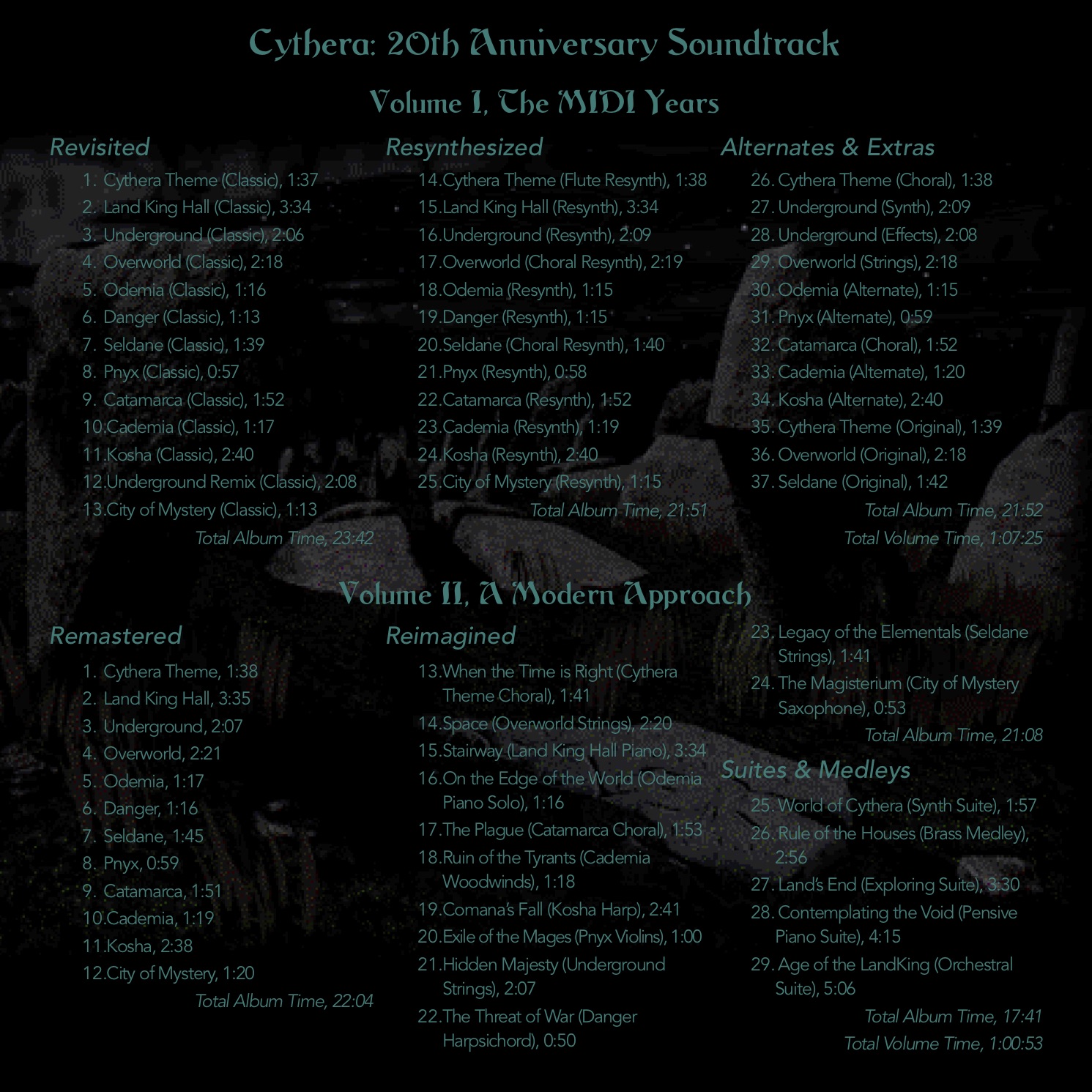 Finally the MIDI files of Cythera tracks are available to fans! The tables below provide links to MIDI and project files for any particular song; for Volume I, the specific track usage is shown, while Volume II uses each project file exactly once for tracks with the same name. These source files can be downloaded in bulk or individually.
Volume I, MIDIs
Download all MIDI source files for Volume I or individual ones below.
The original MIDI files are extracted directly from the game with delvmod or the unaltered versions released online (as in the case of "City of Mystery" for instance). The standardized files were run through Logic Pro X's MIDI converter to create more cross-compatible MIDI files which could run on more synthesizers. This was necessary since the MIDI files generated by delvmod and midiutil did not always work on legacy synthesizers like QuickTime 4, but they did work on newer ones. The standardized tracks work on both. Normalized variants were created which scaled the volume of all tracks by a certain level (95%, 90%, etc.) if they were too loud. These versions are useful when using older synthesizers that do not have overload protection. QuickTime 4 is one such synthesizer, and it could experience a lot of clipping if the MIDI channels are not scaled appropriately -- something QTMA handled automatically before reaching the note synthesis stage. Finally, modified tracks are those that have instrument or track changes. These were created to make new versions of tracks so that problems could be corrected, like overpowering helicopter effects in modern synthesizers' versions of "Seldane," or try out new sounds, like the choral variant of "Catamarca."
Volume II, Logic Projects
Download all Logic Pro project files for Volume II or individual ones below.
The Logic Pro project files map one-to-one with the tracks on Volume II since there wasn't any need to use other synthesizers or variants that wouldn't warrant a new project.
Cythera's images, audio, and text are owned by Ambrosia Software Inc.